It was January 21st, 2021. Liverpool had just slumped to a 1-0 defeat to Burnley at home, ending the 68-game unbeaten run at Anfield. Thiago started that game alongside Shaqiri and Wijnaldum, and the loss was the first of 6 successive defeats at Anfield, which ended with an even-worse 1-0 loss to a newly-promoted Fulham – Thiago on the bench. Make no mistake, it was a drop in form of epic proportions, with the league champions falling as far down the league as 8th.
Of course, well-documented defensive injuries and a lack of cutting edge up top meant the problems were mounting, but Thiago was meant to solve those problems, wasn't he? With Liverpool's form plummeting, question marks were continually raised about Thiago's ability and suitability, despite him making the FIFA World XI in December 2020.
Wasn't Thiago meant to be the next big thing to take us to the next level? Where was this player who had won league titles in almost every year he's been playing at the top level?
Was he really partly responsible for the slump in form that saw us slip dangerously close to mid-table?
It was a weak narrative the media lapped up. The technically gifted player not cut out for the Premier League (despite destroying Premier League opponents regularly, and as recently as Chelsea and Tottenham in the Champions League the previous season for Bayern).
Without doubt, Liverpool's slump coincided with a tough run of form for Thiago, who himself had just returned from injury. He was exposed without Fabinho playing next to him. He had little defensive cover from the array of centre-back partnerships behind him, following the season-ending injuries to Van Dijk, Gomez and Matip. He gave away too many needless fouls, some leading to goals against us. The Covid pandemic happened, with Thiago getting a bout of the virus. And his bedding in had been completely upturned by the reckless challenge made on him by Richarlison in the Merseyside derby – just a few games into his Reds career.
So, despite signing him from the treble-winning Bayern team, in which he was a key player, bizarrely, his Liverpool career began with criticism. He lacks pace. He lacks assists. He can't tackle. He slows everything down. He's too small.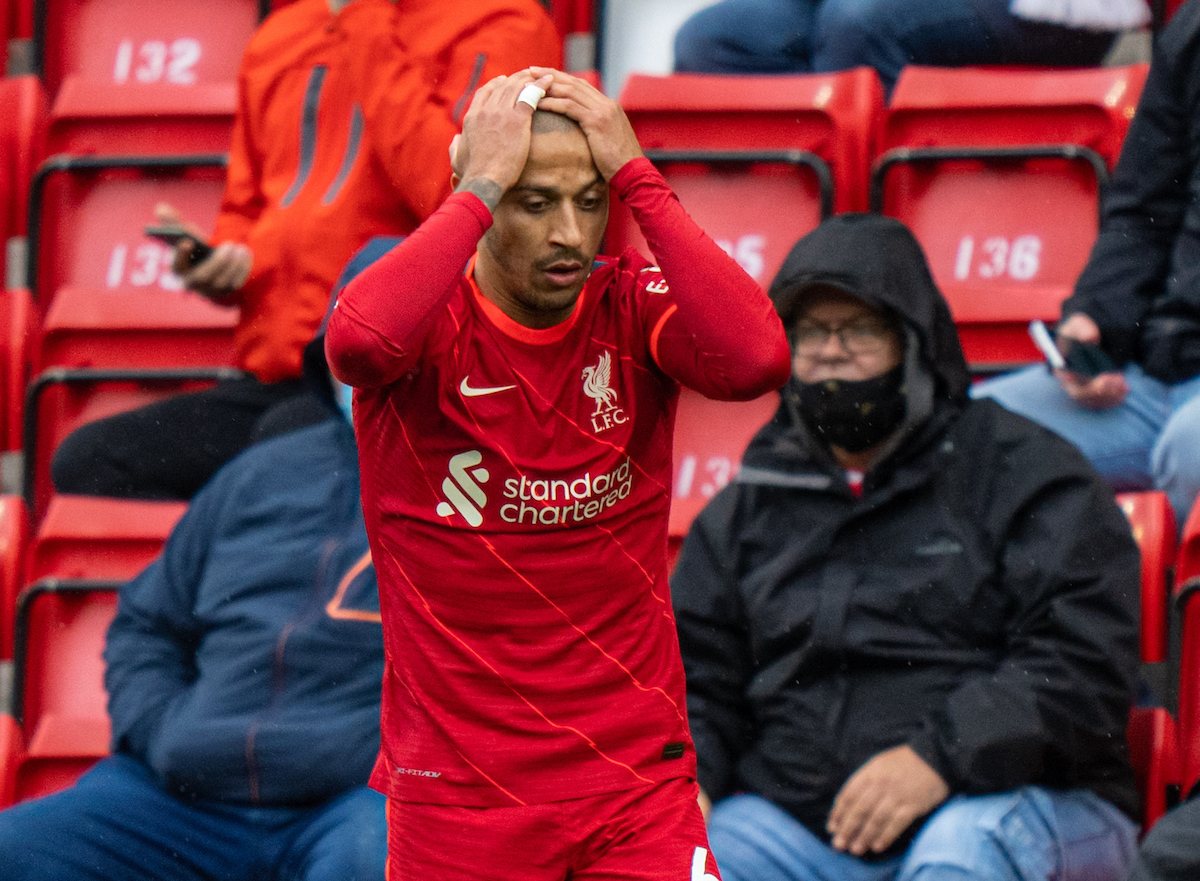 However, the Reds managed to regain their form towards the back end of last season and finished on a 10 game unbeaten run, 7 of which were wins. Thiago was a critical part of that run.
Now, with the Reds back at full force and having settled into a rhythm, he shone at Elland Road. It was a big performance alongside Fabinho. And it had been coming.
Not only did he grab the assist for Sadio Mane's goal, but his tackling and use of the ball were superb. The Leeds midfield, including the much-praised Kalvin Phillips, couldn't get anywhere near him.
Thiago actually made as many tackles against Leeds as the rest of the team combined, as well as maintaining 90% pass accuracy.
Everything we signed him for shone. And, hopefully, this will be the springboard for sustained success. There was never any doubt in my mind about whether he was a world-class player or not. Talent doesn't just disappear. Yes, his Liverpool career didn't hit the ground running, but we've got one of the most technically wonderful footballers on the planet in our team. We need to treasure him.
At The Red Debate, Tom, Ollie and I are all in agreement about Thiago. A special player who is now showing his true ability after a difficult start.
Tom said: "I've got a mate who's a Barcelona fan; the biggest Messi fan I know, though aren't we all really? My mate loves La Masia. He loves Guardiola. He's a fountain of football knowledge & one of my most trusted friends when it comes to assessing players. I'm not really sure why he's a Barca fan in all honesty, but it started somewhere with Ronaldinho. He's from Blackburn, that probably explains it. Anyway, for years and years, I heard him go on about Barca eventually living to regret selling Thiago. That never really played out to the extent he was concerned about, but it made me watch Thiago with a closer eye. And what a footballer.
The excitement around Thiago coming to Liverpool was something special. Off the back of his MOTM performance in the Champions League final and years of dominating midfields with his effortless style and immaculate technique. Think of the other footballers who come to mind as being able to mesmerize fans just by watching them warm up. We're talking about the likes of Maradona & Ronaldinho. True masters of ball control. Thiago's a serious footballer. Perhaps the most serious footballer we've ever recruited at the peak of their powers in my time supporting the club.
And yet, it feels like things haven't really started for him. A debut season interrupted drastically by his own injury and injuries to those around him. We've had the bedding in period; we've had the mad fouls; we've had Henderson bollocking him. But we've also had some moments of sheer joy watching him play. He's a footballer who can dazzle in moments, but also dazzle with overall control, as he did most impressively against Leeds.
There's so much more to come from Thiago. For a whole host of reasons, his early impact wasn't what we expected, but with a run of fitness & his mate Fabinho beside him, I can't wait to watch him grow into his role in the side as a senior player. Thiago's got a gritty, tenacious side to his game. He's got an elegance, shifting his body & moving past a man. He's a showman, and back in packed stadiums, I fully expect him to put on some shows for us."
Ollie adds: "It's one of the few times we've signed a ready-made superstar. Wrongly scapegoated during our dark times and just took a little bit of time to work each other out but now we're reaping the rewards of having one the most technically gifted midfielders in world football."